What is assigning forms to calendar events?
Users now have the ability to be able to assign all forms created to a calendar event. Previously users were only able to link Data Capture and pre defined Wellness forms to calendar events. Now users with the correct permissions will be able to link all forms to events. Athletes will see they need to complete these forms once they open their dashboard. They will have visual representation of the forms they need to complete and what has been completed for the day.
Setting up your Form calendar event
In order to display forms within your calendar events, you first need to set them up. This process starts by:
Clicking on Administration -> Configuration in the Left Hand Menu
Click on Event Categories

Create a "Form" category and assign colours to the category type

Click on Event Templates

Create a form template and assign "Form" template from the drop down

Click on Event Types

Link the event type and the event template to create the event category

Once you have created the event category, you will now see a Forms as an when you create a calendar event.
How do I access assigning forms to calendar events?
Once a Form calendar event has been set up under Administration, a user with permissions to create calendar events will have the option to assign their forms to Calendar events.
Click on Calendar in the Left Hand Menu
Click on Create Event or select the time of the day you would like to set the event for
Click on the event type and select the form event type created in administration
A forms drop down will display
Click on form you wish to assign to the calendar event
Fill in all required information
Assign those users you want to receive the event
Click save
Assignment due within an event
You will notice the option to enable the assignment to be within a certain date range.

For example if you want to give your athletes a two week period to complete a form, you can set the date range from which you want to your athletes to complete this.

Your athletes will see this event in their app calendar everyday until the end date. They will have the option to complete this form everyday, until the end date. If they have filled out the form, it will be highlighted with an orange tick, highlighting the form has been completed.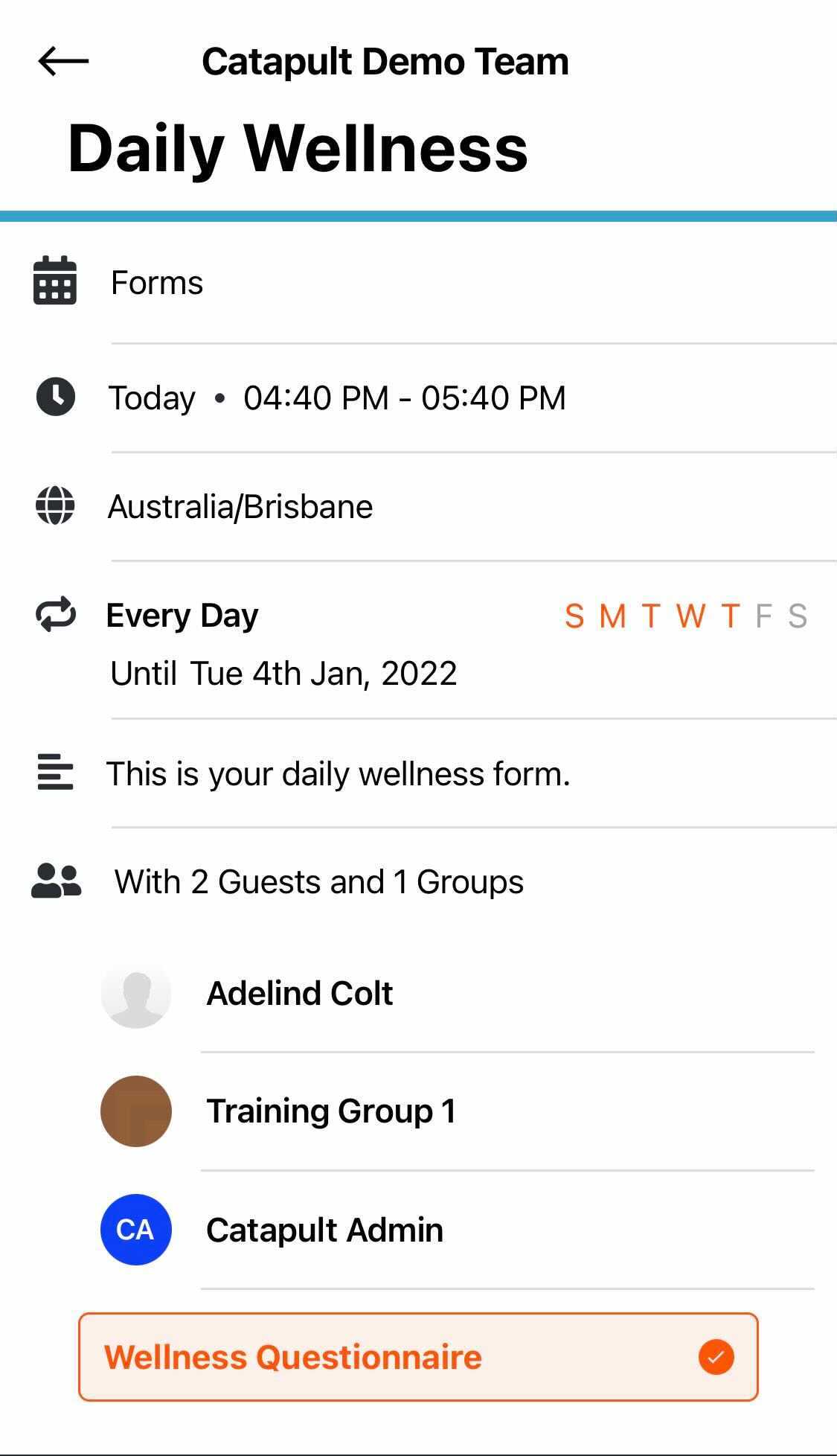 Catapult Form App
Players will now see the the forms that have been assigned to them on any given day. Previously, players have only been able to view Data Capture to be completed for the day. Now when they log into the Catapult Form app they will see the forms they need to complete on the Dashboard. Clicking on these form links will automatically bring up the forms that is required to be completed.
Once all required fields have been filled in and saved, records will be sent to the web.