Contents of Article
Formatting a Data Analysis Table

The Data Analysis Table can be formatted by selecting Format => Format Cells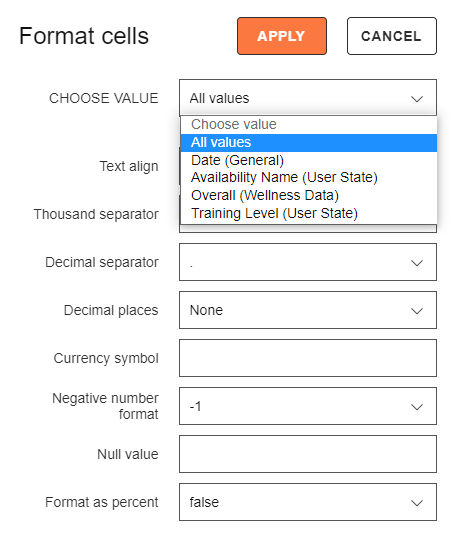 This option allows users to choose to format a particular value or ALL values within the data analysis table a particular way.
Conditional Formatting
Conditional formatting will allow a user to apply specific formatting to cells that meet certain criteria. Conditional formatting in the Data Analysis Table will allow you to :
Highlight crucial information
Understand the distribution and variation of critical data
To add conditional formatting, select Format => Conditional Formatting: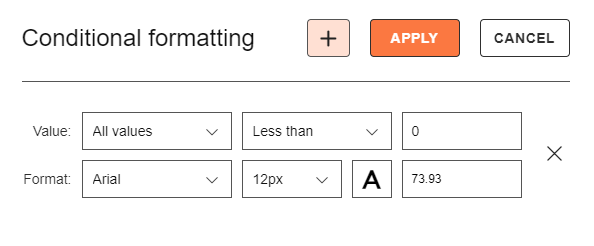 Here the user can choose the conditional formatting:
Font
Font size
Font Colour
Background colour
All values or a particular value can be configured.
Clicking on the

will allow you to format based on multiple conditions.
N.B: In the event that a condition is TRUE for more than one specific conditional format, the condition that gives a TRUE response (the condition configured first) will be applied to that cell.
Table Options
The options tab of the Table allows Users to select how they wish to have the table configured.



Clicking the Options tab will open this window:
Grand Totals and Subtotal allow the User to select whether or not to display grand total and subtotals if there are nested rows/columns.
Layout options behave like this:
Compact Form

Selected by default and will have nested hierarchies below one another. This option displays "Pivot Table behavior"




Classic Form

Like Excel and will have hierarchy sublevels next to one another, in a separate row or column




Flat Form

Displays all data in a flat table. This option will display all users information, without having to open up sections (Like the Compact form works)

Exporting a Data Analysis Table
The table can also be exported in a number of ways simply by clicking the Export Option.
By exporting your Data, you will notice the name of the data analysis table displays, allowing you to take note of the table you have exported.