Contents of Article
Step 1: Creating a new Data Analysis Table
Click on Data Analysis in the Left Hand menu
Click +Create to create a new Pivot Table.
Step 2: Select Sources
Once you open your Data Analysis table a pop-up will display, promoting you to select sources to start building out our table.

This will open a Box2Box selector. The User should select the source(s) from the left and click the > to move them to the right-hand side displaying the selected sources: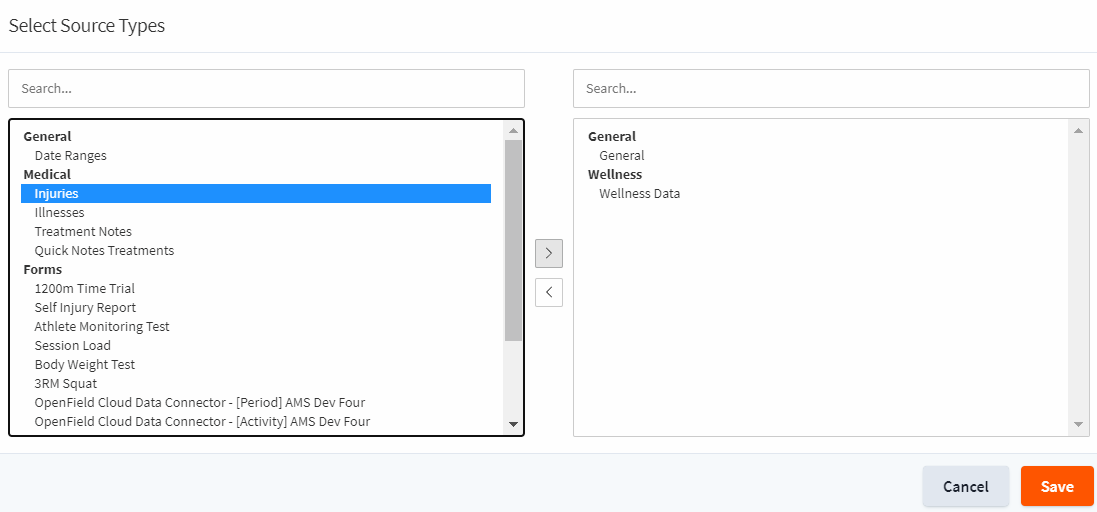 Select the form you wish to build the data analysis table from
Once all sources have been selected, click save
Step 3 - Configure Fields
Now that the User has selected the Sources they want available in the table they should click the Fields option:
This will open the Field configuration window. The sources will display down the Left-Hand side in alphabetical order.
They can be searched for and then checked or dragged and dropped into the relevant position.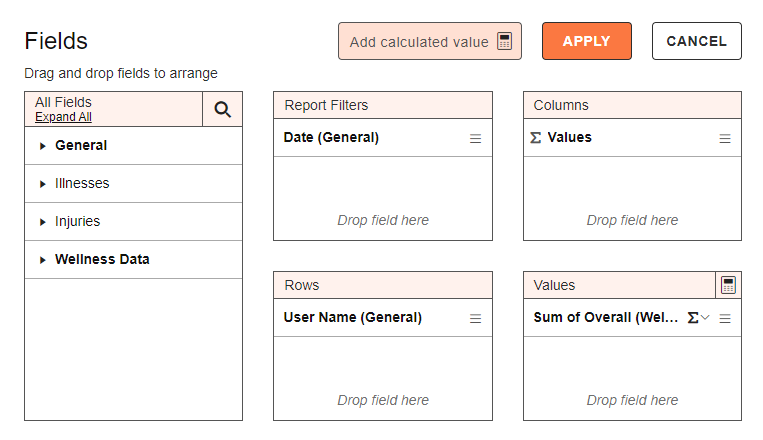 To remove a configured field, simply double click or drag and drop back to the left-hand side.
Step 4: Setting a Title and Filters
The title of the Data Analysis page can be inputted in the available box. This is required before the Data Analysis can be saved successfully.

The next section of the page is Filters. This is where the User can search for any User, or Group and set a date range to apply the metrics to.
Once configured you must hit Apply Filter for the changes to take place.

Report Filters:
Report Filters will display above the Table data. The cog can then be clicked to quickly apply filters to the table data.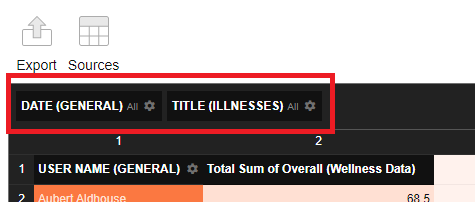 Rows:
This is what will display in each table row and what the metrics configured in the Columns/Values boxes will apply to.
It is possible to configure multiple metrics within the row field. In this scenario, the value will apply based on their parent metric (the metric above them).
For example, if the User has Date, Activity Name, Period Name then User Name configured it would display as shown below.
Activity Name from the above Date

Period Name from the above Activity

Users that were in that Period above
Columns:
This is where the User can configure what each Column will display. By default, the Column will display the Value output of the Values box.
Values:
This is the metric you wish to display and how they are to be aggregated.
Read about aggregation methods here:
Step 5 - Basic and Conditional Formatting
Now that the data is populating the table the User can choose how to present the values within the Table and add any conditional formatting.
For info regarding formatting please read here:
Video Tutorial