Now that you have complete the mappings and set up of your wearable account the data will begin to populate in AMS once you have synced your console.
During the process above, a new left-hand menu item will have been created called WEARABLES with an option below called CATAPULT DATA. Clicking on this option will take you to a view results table containing the wearable data from the OpenField or GPSports Cloud account you have integrated with.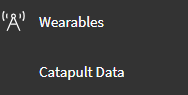 The Catapult Data View Results screen is where any alerts setup will highlight to acknowledge a breach in the set thresholds.