Now that you have logged into your wearables account you will be asked to select which team(s) you wish to map. All players are available to be mapped.
Click Next once the team is chosen.

The members in the OpenField/GPSports Cloud need to be mapped up to the AMS members. To do this, choose the name from the dropdown list. Once all members are mapped, click Next.

Once complete you will be asked to grant permissions. This step will automatically allow the specific role to view wearable data without having to edit the permissions via Administration - Configuration - Roles and Permissions.
Tick the relevant role(s) that should have permission.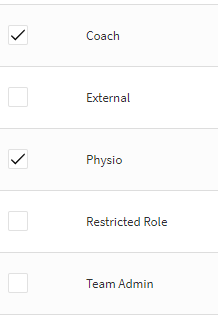 Click Next and then the process is complete.
You should now run a sync on your console and wait for the data to populate on AMS. This process can take some time depending on the amount of data on your wearable account.