In some situations, it can be useful to have a member present in your AMS before that member is invited and gains access to their account.
For example, you may want to organise players into groups and add events to their schedules before running an AMS training session, sending out invitations and allowing the players to login.
To cater for this, the platform offers 'Pending' user status.
When adding a new member, if the 'Send Invitation Email To User' box is selected, the user will receive their invitation and have the ability to login to the platform immediately. You will find them under the 'Active' tab on the Member List.
If the 'Send Invitation Email To User' box is NOT selected, you will find the member under the 'Pending' tab on the Member List and you can control when they receive an invitation to login at a later stage.

When you are ready to invite any member/s who are Pending, click the 'Send Invitation To User' icon

in the options column.
When this icon is clicked, a pop-up box will appear that gives you further options. The invitation will NOT send straight away. See below.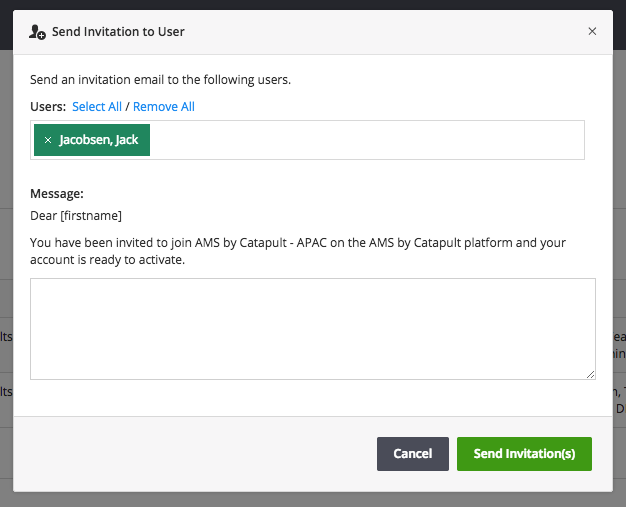 To invite all users who are currently Pending, click the blue "Select All" link and they will add to the Users field. To remove all users currently in the Users field, click "Remove All".
To invite only a selected number of Pending users, start typing their name in the Users box, then select the correct member.
Use the empty text box to include any additional instructions with the standard platform invitation (optional).
When you are happy with the users selected, click the green 'Send Invitation(s)' button.
These users will receive an invitation with a link to set a password and login to the platform.
Once a pending user has logged-in for the first time, they will move to the Active tab on the Member List.
Note: invitation emails can be sent again if not received the first time. Simply click the Send Invitation icon again and select the appropriate users.