Please contact amssupport@catapultsports.com if you wish to activate this feature on your account.
What is a Report Snapshot?
A report snapshot allows you to save a copy of a saved report at a point in time. This allows you to easily view and compare results rather than having to adjust the time range on your saved reports.
Report Snapshot Permissions?
Only those roles with relevant access will be able to create, delete or read snapshots of reports.
Please note that their ability to create, delete or read snapshots will be based upon their access to Reporting V2.
How to save a snapshot:
Open a report you have configured via Reporting- Reporting V2.
You then then notice the Save Snapshot and Snapshot List (for reports with current saved snapshots) in the top right hand corner:

Once you are happy with the snapshot you wish to save click Save Snapshot. This will open the following window (see below). Please enter a Name and Description then Save.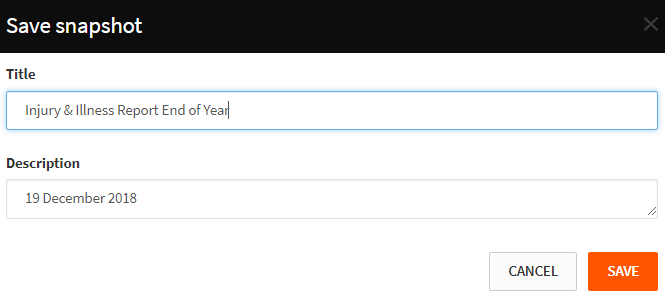 Once you have saved you will get a confirmation then a link to the snapshot list:

Alternatively view the snapshot via the Snapshot List button.
View Report Snapshots:
As discussed above, snapshots can be viewed within the report by clicking the Snapshot list button.
They can also be viewer via the Report List page.
Click the options button next to the relevant report you wish to view: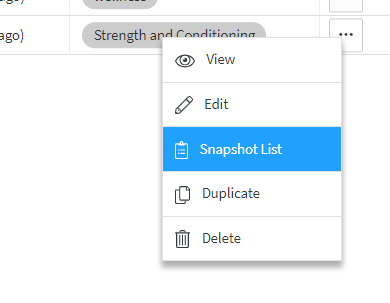 This will direct you to the Snapshot list of the Report you selected.

From here the snapshot can either be viewed or deleted. It can also be viewed by clicking the snapshot name.