Using the Alerts List
The Alerts List congregates all of the triggered alerts in one location. It can be used to monitor players triggering alerts, or if particular alerts for a test are triggered more than others. This can then be used to adjust a player's training. Once an alert has been actioned it can also be deleted from this screen.
To view all alerts please navigate to Reporting - Alerts List: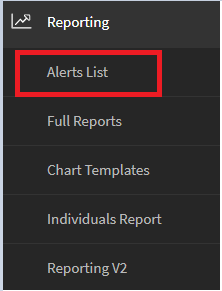 Monitoring Alerts
Use the search filter at the top left-hand of the table to search for a particular player.
To view alerts within a date range select the dates in the top right-hand side of the table and a drop-down menu will appear. Select 'Submit' to update the table.
Copy, print or export the alerts list using the corresponding buttons below the dates.
To delete records, select the individual alert from the table, or the 'Select All' box above the search filter, and select 'Delete Selected Records'.