Adding members to your Catapult Form roster will allow you to track data across their profiles as well as receive information on your created Forms directly from them via the Catapult Form mobile app. There are two ways to import athletes:
Individually

Navigate to your Left Hand Menu
Select Administration > Members

In the top right hand corner of the Members screen, select +Add User

A pop up will display to add a new user:

Please ensure the email used in this area is a real email. If you plan on gathering information directly from the athletes, you can add them as Active players by selecting the "Send Invitation Email to User" checkbox. If you are not yet ready for the athletes to be able to add information themselves just yet, do not tick that box and the member will be added as Pending. The difference between Active and Pending athletes is covered off below.




In Bulk

Click on the Cloud Icon in the top right hand corner of your screen

Select "User Data" and download the Template by clicking the blue button

Fill out the CSV downloaded in step 2 with the proper information - the required fields are Invite, Email, First Name, Last Name. and Role
**Ensure that the email is valid. If you want the members added as an Active player, put YES in the Invite box. If you want them added as Pending, put NO in the Invite box.
**The Role that you put for each athlete and/or staff member needs to match the spelling and capitalization in the role exactly. You can find how to set or check this here.


Once completed and saved, choose your file in the same screen prompted in step 2 above and it will take you to a Field Mapping page. Select the Date Format that works best for you and ensure that all of the boxes match what in the left and right columns

Ensure that the fields you're importing look correct, and select Start Import

Once completed, you should get a success message telling you how long the import took, and how many members were imported. If you don't, please contact Catapult Support.

Once imported, you can see the members that you added by navigating to Administration > Members. To differentiate between Active and Pending athletes, you can filter between their respective tabs.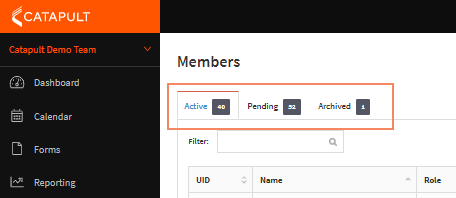 Active vs. Pending vs. Archived Athletes
Active members have the ability to sign into the platform themselves, either via the web platform or the mobile app, Catapult Form. These members will be able to add information themselves - for example, they will be able to fill out a Wellness Questionnaire (or any other customized Form you're created) to be reported off of.
Pending members have profiles in your account, but do not yet have the ability to add information themselves, Going off of the above example, if you want their information reported on, you will be able to add it as an active member on their behalf.
**To make a Pending member Active, navigate to Administration > Members > Pending tab, and select the paper airplane button:


Archived members are no longer on the roster. They will not be included in Reports and will not have the ability to access the site or the app themselves. Only Active members can be archived manually. If you need to archive a Pending member, please contact Catapult Support.
**To Archive a member, navigate to Administration > Members and select the Down facing arrow icon:
Archived members can be un-archived at any time by navigating to Administration > Members > Archived tab and selecting the Up facing arrow icon: