Event Categories
Event categories relate to the visual display of the event on the calendar, allocating a colour to an event type. Teams can create a colour-coding system based off their own individual needs. For example, each department may be assigned a different colour to allow people to recognize when an event applies to them.
Event categories will contain specific event types below them. As example of an event category could be Training or Meeting. Using this example you would have the overall category of 'Training' and then a specific event type underneath this called 'Weights', 'On Field', 'Match Simulation' etc
Add an event category:
To add an event category navigate to Administration - Configuration - Event Categories

In the top right-hand corner of the screen, select 'Create New Category'.
On the following page, fill in a title for the event category, and background and font colours. When selecting background and font colours, clicking on the respective box will produce a drop down colour palette. Select your colour and the colour code will appear.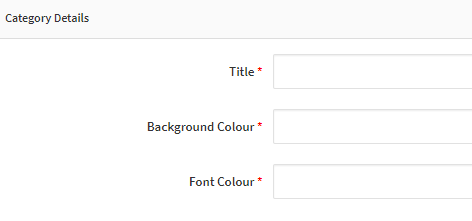 Select 'Create Category' in the lower right-hand corner of the page.
When adding an event to your calendar this is where the event category will display: