Staff with the required permissions can schedule automatic Wellness Reminders or manually send anytime.
A push notification will be sent to the entire team, group(s) or individual(s) at the scheduled time if the athlete has not yet completed their Wellness that day.
To set up a scheduled reminder navigate to Administration > Configuration > Wellness and scroll to the bottom of the page.
Set the toggle for Wellness Reminder to Enabled and set up your reminders. In the example below, if athletes have not already completed their Wellness, reminders will be sent on weekdays at 8:00am.

To send a once-off reminder, navigate to Athlete Wellness. In the top-right corner of the page, find the green button for Wellness Reminder.

Clicking this button will bring up a window. A reminder can be sent to the entire team, group(s) or individual(s). In the example below, two groups have been selected.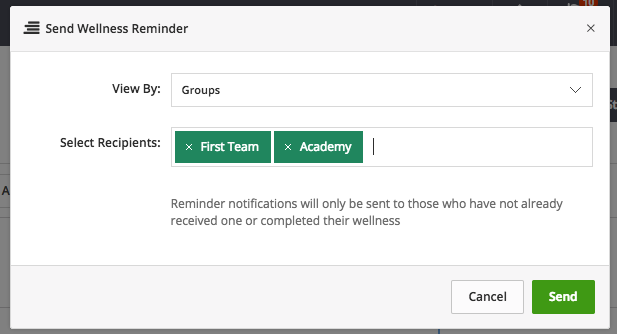 Only players in these groups, who have not completed Wellness today, will receive a notification on their mobile device.