On the Full Reports page, select from the icons in under the 'Options' column to manipulate the report.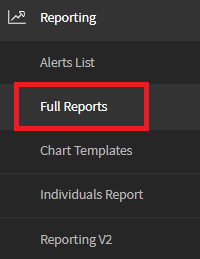 To generate and view a report, select the blue 'View' icon.

Using the drop-down tabs, select the date range or season and competition phase that you wish to run the report from.
Date Selector:



Season Selector:




Select the individual player or group of players from the next drop-down menu.


Individual(s):





Groups:



All Team:




Select if a comparison is required.


Select whether you wish to display the team average.



Select whether you wish to include archived players in the report.

Select 'Run Report' in the bottom right-hand corner of the screen to generate the report.